It is imperative that you have a healthy and light dinner. Keeping this in mind, I have brought not just one but, two healthy food recipes that are easy to make and incredibly tasty.
Healthy Food Recipes: Shrimp With Honey And Walnut
Water – 1 cup
Sugar – 1 cup
Walnut – 1 cup
Shrimp – 1 pound, peeled and deveined
Salt – as required
Black pepper powder – to taste
Mayonnaise – ¼ cup
Eggs – 2, beaten
Cornstarch – 1 cup
Honey – 2 tbsp
Vegetable oil – 2 tbsp
White cream – 2 tbsp
Green onions – for garnishing, finely chopped
White rice, cooked – for serving
Directions
Pour the water in a pot and add the sugar. Place it on medium heat. When the water begins to boil, tip the walnuts in it. Let them boil for 2-3 minutes. After that, take the walnuts out of the sugar water using a spoon and keep them on a baking sheet.
Take a kitchen towel and pat the shrimps dry with it. Then sprinkle some salt and pepper on them and mix well. Dip them one by one in beaten eggs and coat with cornmeal. Coat all the shrimp with cornmeal in the same way.
Put a skillet on medium heat and tip the oil. When the oil becomes hot, fry the shrimp till they are golden brown. When done, take them out from the skillet.
In a bowl, mix the honey, cream, and mayonnaise. Add the fried shrimps in it and give them a good mix.
Now take a plate and put white cooked rice on it. Add the shrimp on the top of the rice, followed by the sugary walnuts. Garnish with chopped green onions and taste heaven.
Healthy Food Recipes – Roast Chicken With Broccoli, Baby Potatoes And Cherry Tomatoes
Preparation time – 15 minutes
Cooking time – 1 hour
Ingredients
Whole chicken – 3 pound
Baby potatoes – 1 pound
Salt – to taste
Black pepper powder – to taste
Cherry tomatoes – 2 cups
Broccoli – 1, cut into florets
Garlic – 3 cloves, minced
Red pepper flakes – as required
Red onion – 1, cut into cubes
Butter – 4 tbsp, melted
Italian seasoning – 1 tbsp
Basil – ¼ cup, chopped
Olive oil – 2 tbsp
Spinach – for serving
Directions
Marinate the chicken with salt and black pepper powder and let it rest for 30 minutes. In the meantime preheat the oven at 450 degrees Fahrenheit and prepare the veggies.
For that, you take a large bowl and add the olive oil along with potatoes, tomatoes, and broccoli. Add some salt, black pepper powder, and red pepper flakes and mix everything thoroughly.
Now, mix the butter along with Italian seasoning and minced garlic in a small bowl. Apply this mixture to the marinated chicken generously. Make sure not a single portion of the chicken is left.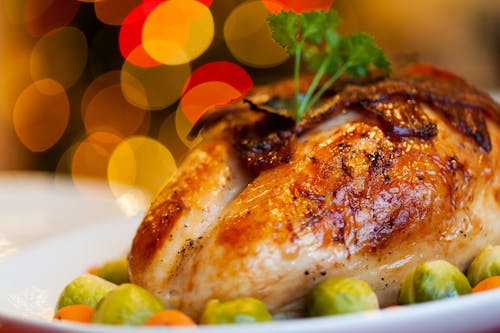 Place a skillet on the middle of the oven and spread the veggies. In the middle, the chicken and let them roast for about 1 hour. When done, take the skillet it and keep it aside for about 20 minutes.
Spread the spinach on a serving plate. Place the chicken and veggies on the spinach beg and sprinkle chopped basil on the top.
Your healthy roasted chicken and veggies with herbs are ready to go into your mouth.