Just because you prepare healthy snack recipes in an instant, it does not have to mean that you should lose out on the calories. You can make smoothies too. Smoothies are a great way to energize yourself after a workout or jog.
Prepare it before you go out for a walk or jog, come back and drink it. It is as simple as that. The smoothies can be prepared instantly. You do not need to add too many ingredients to it.
Tips To Know When Preparing Healthy Snack Recipes
You can make use of your creativity here. If you are residing in a tropical region, then you can perhaps make use of ice or cold water. To that, add some ingredient that gives you a boost of energy like banana or apples.
You can then mix it with some yogurt. Some like to use milk, that is fine. You can even add some strawberries. Like said, you can add the ingredients of your choice. Just come up with ingredients that blend, providing you with a fresh mix of drink.
Mix it in the blender for some time and keep it ready on the table. You are done and prepared for your run. It usually takes about less than a minute to churn inside the blender. You can make use of orange, watermelon, apples, berries and so on.
One of the best healthy snack recipes should definitely by the smoothie. Not to mention, even kids too can have it. Just that, remember to add some milk into it. This way, they also have their milk.
Kids usually make a huge fuss when it comes with drinking their milk. Hence, preparing a smoothie for them would be the ideal solution. They would never complain about it. As you can see, making the smoothie does not take long.
However, it keeps you going for several hours. Having it for breakfast too is excellent — not every day. But you can consume it when you are busy or have a hectic schedule. How about some salads?
Why Not Prepare Healthy Salads
These days, if you are searching for something healthy to consume, then salads are your answer. You can add the ingredients depending on the kind of mood you are in. For example, we will teach you how to prepare the salmon with lettuce salad.
It is filling and wholesome. Not to mention, you can also have it for lunch or dinner. The ingredients too are few. You need a cooked or grilled salmon, 1 sliced lettuce, 1 sliced onion, few teaspoons olive oil, and 1 teaspoon balsamic vinegar.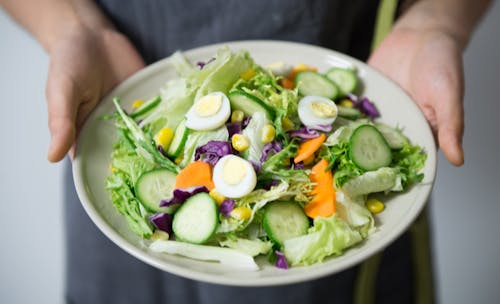 You need to mix everything in a mediums size bowl and refrigerate it. Depending on your requirements, you can add some more ingredients like tomatoes or cucumber. In some cases, you can even add yogurt to it if you are looking for a better dish.
Sometimes you may feel tempted to consume dry food items. Hence, it is fine to use yogurt or some other food ingredient when preparing salads. Preparing the dish was not only easy, but it comes with loads of proteins and omega 3 acids.